Photo by Dennis Scott
Born out of a friendship created while the group's founding members Matt Klee (Drums) & Jacob Gleason (Saxophone) spent countless hours on the road together touring with local favorites ZuhG & Random Abiladeze. During this time an intense musical connection developed while performing over a hundred shows in various cities in bars, clubs, festivals, and after-parties on the west coast.
It also became evident that Matt's (then & current) girlfriend, Bianca Wright, was a serious talent when she performed as a guest vocalist on ZuhG's self-released "Free Love" CD which won Release of the Year at the 2011 SAMMIES (Sacramento Area Music Awards). The trio left ZuhG in June of that year and began creating a new project to showcase Bianca's immense vocal talents.
Photo by Fred Jennings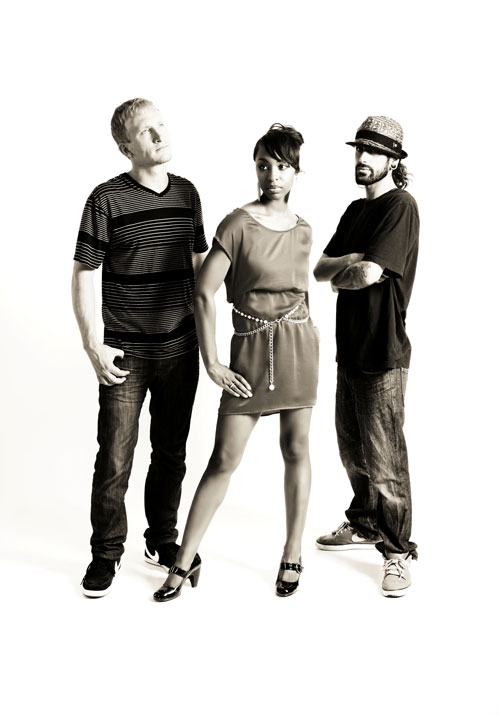 Right away, the group began creating home recordings which became the roots of the new band's material. After several sessions of improvising and jamming on ideas, a sound started to emerge. It was something new and interesting that also expressed the energy and emotion that the artists were trying to convey.
With an emphasis on part-writing the musicians began piecing together the best moments of the recordings and eventually (over the course of 2012) began to assemble them into songs and re-record them. The Groovincible moniker came into being based on the three words which represent the band's primary objective–[to create] grooving, interesting, & danceable music.
Harnessing the talents of Tony Marks & Brian Chris Rogers on bass, and Sam Phelps on Keys, Groovincible crafted their recordings carefully adding horn, string, & vocal arrangements to fill out the sound. The eponymous album was engineered entirely by the band and then mixed & mastered by Joe Johnston at Pus Cavern in Sacramento.
Photo by Dennis Scott
Physical Groovincible CD's were released on July 27th, 2013 and are currently available at all live shows for $10. Digital downloads are available via Bandamp for FREE and on iTunes for $9.99 per album.
The band's high energy shows & superb musicianship recently earned them a 2016 SAMMIE AWARD for Best Funk and consecutive Nominations in recent years (2013-2016) by the readers of the SN&R. They have been featured in Submerge Magazine and are in regular rotation on internet radio stations like Spotify, Funk Republic Radio, Dirty Hippie Radio, & Black Sky Radio.